Generally speaking you should choose three colors for your home's exterior, including garage door.
1. Dominant color, also called "field color"
2. Accent color
3. Trim color
Many exterior materials are available in color families that are easy to match, but some consideration must be given to choosing materials, or the look will be off. When purchasing a new garage door, colors are an important consideration. Here are five tips for matching garage door colors to your home.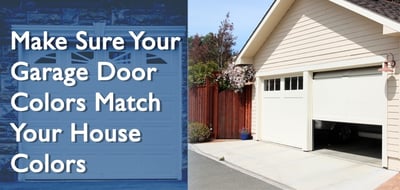 Commit to one neutral palate even if you are using colors. Most color families are considered either "warm" or "cool." Such as you don't wear grey socks with a brown belt, using one neutral to unify your color palate makes sense. Even greys and whites have subtle neutral undertones which can clash if mixed discordantly. For example, if you are using a cool grey for the trim, select cool hues for your garage door colors.


Match hardware and other metal accents to one style. Hopefully if you own a home, you know that there are more colors of metal than "gold" and "silver." It is not enough to stick to either brass or steel, because the metals themselves can be brushed, lacquered or polished for a wide selection of textures and tones. Different eras are characterized by different types of hardware. Do your best to select accents that are of the same style. Every piece does not necessarily have to be marketed as a specific style or period; you will be able to choose for yourself after getting acquainted with what's available. Decide if your home is suited to angular, bold, curved, old-fashioned, modern, or ornate hardware. Get a feel for the general characteristics of hardware you like on the entryway door, and use your judgment to select matching pieces.


Field test your selection before committing. Perhaps you've experienced how different something looks in the store than at home. Different ambient light makes colors appear very different. The light outside your home varies throughout the day, and your home will look different at the first light of dawn than under the glow of streetlights. Get paint samples to take home if possible. View the colors side by side in the naturally occurring light. Matching colors from the web is not accurate, as different monitors display different tones.


Start a color and finish file. A simple notebook works to record all of the updates and investments you make. It will save time and money when you can quickly look up exactly what you need to get. Tech savvy people may wish to start a computer file or make a folder in their personal organizer to keep track of paint colors, plant varieties, hardware sources, etc. Keep this file stored with your other homeowners' records like appliance manuals and warranty certificates. When it's time to repaint, the exact same garage door colors can be easily purchased again.


Ask the experts. Paint manufacturers have improved upon the complementary color chips, now they give away coordinated palates to make coordinating main and accents colors simple. You can't go wrong using color schemes from the store or published in home magazines. If you're a little more confident, select a swatch of patterned fabric that inspires you and ask the paint counter to help you exactly match them. If you can hire a pro, select a designer who understands your personal vision for your garage door colors.
Door panels are available in a huge selection of colors and finishes, so it is possible to match the new door to the existing roof, siding, etc. Many people order the panels they like best with the home's main color, and then repaint the trim to complement it if necessary.
Need something a little more visual? Take a look at our Residential Buyers Guide and see all of the different possibilities.